Media
Master Builders SA - 2021 Building Excellence Awards
MPM Winners in Two Categories
The MBA awards are a showcase of excellence and the consistently high standard of work delivered by South Australia's building and construction industry.
Minuzzo Project Management were thrilled to have been awarded winners in 2 categories for the 2021 Building Excellence Awards - Excellence in Apartments and Excellence in Heritage Restoration.
217 East Terrace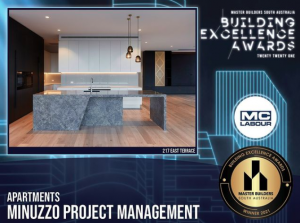 2017 East Terrace was awarded Excellence in Apartments with Master Builders highlighting that this project "delivered the highest level of interior finishes in this category." The external facade featured 28 different materials that were seamlessly executed. All apartments sold at a record price of over $2 million.
Click here to view the 217 East Terrace development.
Carrick Hill Redevelopment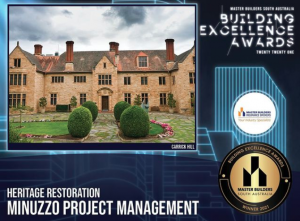 The restoration of Adelaide's iconic Carrick Hill was awarded winner for Excellence in Heritage Restoration (Commercial and Residential) from a very competitive field. The project included "innovation beyond expectations, complex and diverse restoration skills over many disciplines."
Click here to view the detailed interior and exterior restoration.
Heathfield Oval
Work has officially commenced on upgrades to the Heathfield Oval facilities, with Hon Corey Wingard MP today turning the soil on the site where improvements are to take place.
.
This regional hub for the south of the Adelaide Hills is receiving a significant change room upgrade, including additional change rooms, accessible toilets and officials rooms, as well as an upper area to accommodate team meetings, fitness, and recovery activities.
.
The additional change rooms will make it possible for both men's and women's football teams to use the amenities concurrently, as well as providing more equitable amenities for people with special needs.
.
There will also be much-needed upgrades to the on-site cricket nets to make them compliant with Cricket Australia standards.
.
A big thanks to members of the Mt Lofty Football Club and Mt Lofty Cricket Club who were able to join us for this special occasion!